Unusual accomodation Côte d'Armor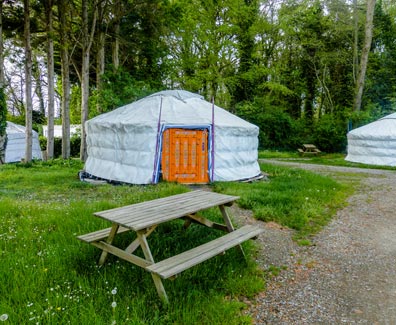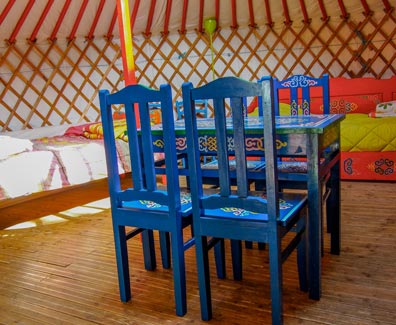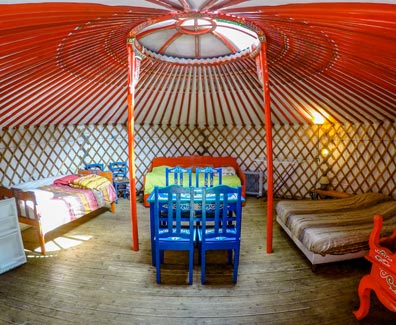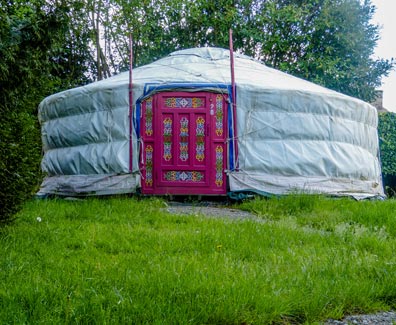 Our yurts rentals in Côtes d'Armor
We propose you to stay in a yurt at the yurt village of Beaussais sur Mer. On a wooded park of 1 hectare, we have a twenty yurts for rent in the center of a small village adjacent to the forest of Plessix Balisson. You will stay in a unusual accommodation at the best price in the region, not in a mobil-home, nor in a caravan but in a yurt, a eco-responsible housing. The yurt is composed of a single circular room that is organized around the central coloured dome.
This one will allow you, when you remove the roof square, to observe the sky and the stars and to be in harmony with nature.
Each yurt is equipped with all comfort with a double bed and single beds depending on the number of extra people in the yurt (max 6 people). A microwave, electric plates, refrigerator, crockery and cutlery will allow you to prepare your own meals if you wish.
Colourful high and low tables embellish this yurt, typical habitat of the Mongolian people. A stove for heating in winter is present in each yurt.
All the necessary to do the dishes is provided free of charge to the yurt owners. A garden table will allow you to relax in this green and quiet setting of the campsite.
Info & Availability

See more pictures

Yurt 2/3p

Info & Availability

See more pictures

Yurt 4/5p
Discover our yurts on the Emerald Coast
The yurt is a traditional habitat where you can stay summer and winter. Composed of several successive layers of canvas and felt, they provide it with a high level of insulation. The round shape of the yurt, according to Mongolian beliefs, would allow the energies to circulate more easily and would soothe the soul and tensions. The unique piece allows to live all together in harmony and will allow you I am sure to share very good moments in couple, in family or between friends. Moments of conviviality and sharing will be the key words of your stay in the yurt village of Plessix Balisson.
After belles journées en bord de mer en terre bretonne, you will appreciate this accommodation which reminds you of the glamping, a return to well-being in a warm and unusual accommodation. Do not hesitate any more and come to discover this original and traditional accommodation in the yurt village of Plessix Balisson.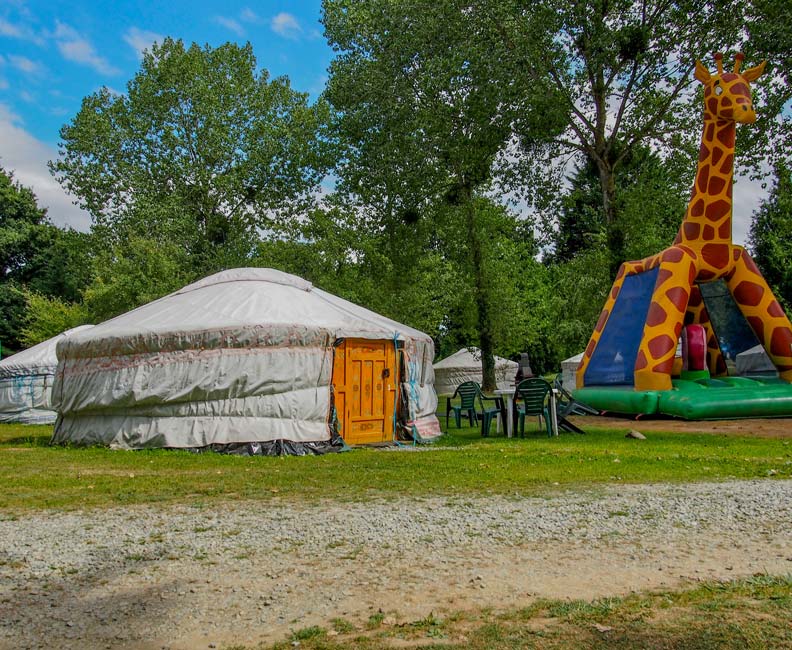 Our rates and service at the campsite